Adverse Childhood Experience Study (ACES)
aces1
The Adverse Childhood Experience Study (ACES) is the largest and first research study that established a direct association between childhood trauma and adult ill health. The study found that the greater the number of adverse childhood experiences, the greater the possibility of disabilities and dysfunction in adult life.
"It is easy to assume that babies don't remember trauma because they express their experiences differently," Tessa Chesher, an clinical assistant professor of psychiatry and behavioral sciences at Oklahoma State University who specializes in infant and early childhood mental health, says in an email. "At [8 to 12] weeks of age, babies have stored enough memories that [the babies] start to anticipate their caregiver's behavior based on previous behaviors. They start to respond based on the experiences they have had."- Reilly, Katie C. "Trauma in infancy can have a lingering effect throughout life," Washington Post (3/20/22)
"Professionals working with young children, policy-makers and caregivers should be aware that an accumulation of caregiver separations/losses, irrespective of violence and other traumatic exposure, may have detrimental effects on young children especially in the context of prior separations/losses or disruptions in their lives."  - Briggs-Gowan, Margaret J., et al. "Adverse impact of multiple separations or loss of primary caregivers on young children," European Journal of Psychotraumatology (August 2019)
The Connection between Childhood Trauma and Adult Physical Health Outcomes
The original ACES survey conducted in the mid-1990's asked adult respondents to report on 16 adverse experiences that they experienced in childhood, categorized into three groups: abuse, neglect, and household experiences. Sixteen types of adverse experiences were used in the study: emotional abuse, sexual abuse, emotional neglect, physical neglect, mother treated violently, household substance abuse, household mental illness, parent seperation or divorce, incarcerated household members, bullying (by another child or adult) witnessing violence outside the home, witness siblings being abused, racism, sexism or any other form of discrimination, being homeless, natural disasters or war.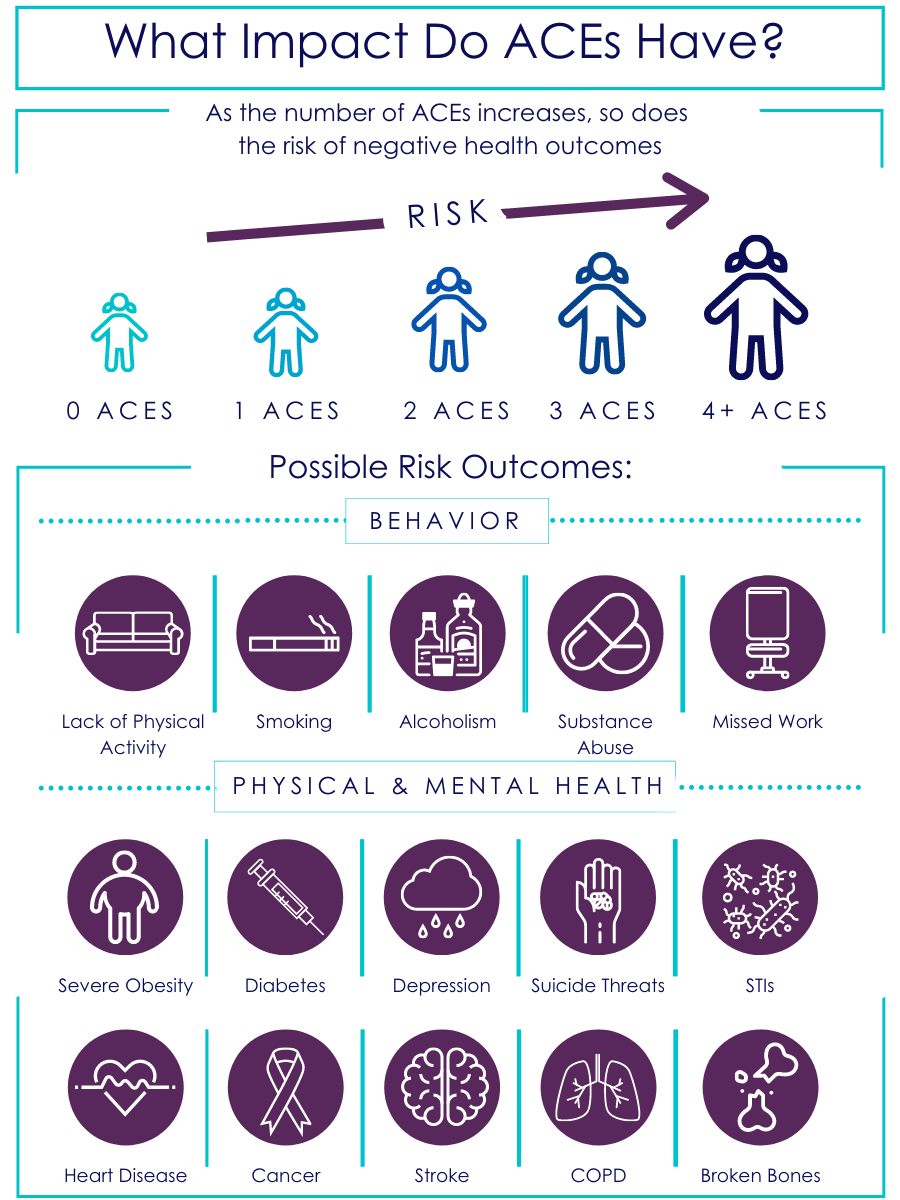 ACES demonstrated a significant association between cumulative adverse experiences in childhood, including those depicted below:
The study considered a person from a whole life perspective, uncovering and confirming that adverse childhood experiences strongly impact growth and developmental issues and the prevalence over time of risk factors for disease, disability, social and emotional problems and early death.  Respondents to the survey were given an ace score between 0-10 depending on how many experiences they reported being exposed to.
Some fascinating statistics: 
1 in 6 Adults experienced for or more types of ACEs

According to the

CDC

, at least 5 out of 10 of the leading causes of death are associated with ACEs.

Children who experienced four or more adverse experiences had 12x the odds of having negative health outcomes. 

Studies

show that females, younger adults, sexual minorities and multiracial individuals are at greater risk for experiencing ACEs. 

Respondents who have experienced any single category of ACEs are 87% more likely to have experienced other forms of

trauma

.

S

tatistics

on people who have experienced 4 or more ACEs without intervention show that they are:

5.13x more likely to be depressed,

2.93x more likely to smoke,

2.42x more likely to develop chronic pulmonary lung disease,

3.23x more likely to binge drink, etc.
The Effects of Childhood Trauma on Childhood Development
The ACES study became even more momentous with the parallel neuroscience research findings that severe stress and chronic childhood trauma releases hormones that physically damage a child's developing brain.
Toxic stress, the result of strong, frequent, or prolonged adversity, is the "extreme, frequent, or extended activation of the body's stress response without the buffering presence of a supportive adult." See The Science of Early Life Toxic Stress for Pediatric Practice and Advocacy
Although children are resilient, they are much more susceptible to the impacts of stress from a neurobiological perspective. Children's brains develop at an early age, and toxic stress and the long term release of stress hormones weakens the architecture of the developing brain, which can lead to lifelong problems in learning, behavior, and physical and mental health.  See Brain Architecture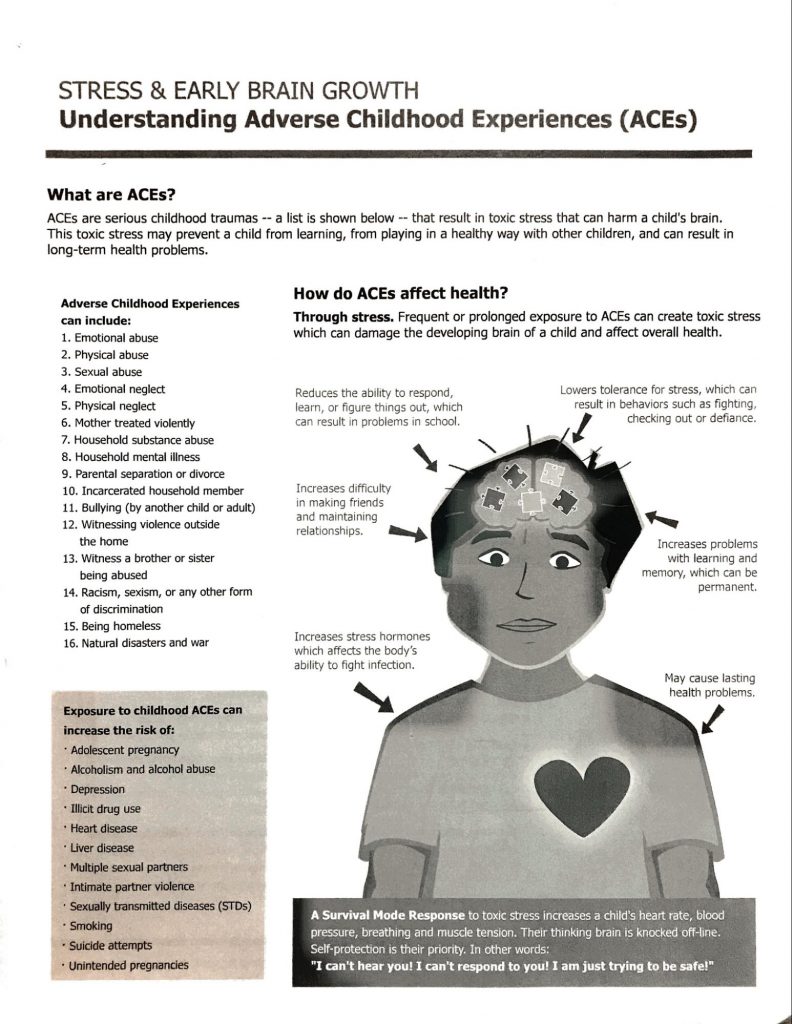 The Importance of Early Detection
Early interventions may help mitigate the most dire consequences of childhood trauma and may have positive effects on long term health.
In the words of Dr. Robert Block, the former President of the American Academy of Pediatrics, 'Adverse childhood experiences are the single greatest unaddressed public health threat facing our nation today.' This is treatable. This is beatable. The single most important thing that we need today is the courage to look this problem in the face and say, this is real and this is all of us." 
Healthcare professionals are beginning to learn how to screen patients for ACEs and to treat the impacts of toxic stress. Former California Surgeon General Nadine Burke Harris began an initiative called, "Becoming ACEs Aware in California." She has given Ted Talks, and presentations on the importance of understanding ACEs. By determining a patient's ACEs score, health care providers are better positioned to detect issues early and link families to supportive services and interventions to reduce ACEs and build resilience. 
Signs of Unresolved Stress in Children
Trauma Lens: Common characteristics/behaviors for infants, toddlers, and preschoolers exposed to trauma

Infants/toddlers:

Irritable/difficult to soothe

Passive/unresponsive to stimulation

Sleep disturbances/Eating disturbance

Diminished play, exploration, or mood

Clingy/separation anxiety

Frequent and intense tantrums

Toddler/Preschoolers:

General fearfulness/new fears

Aggressive behavior

Sexualized behavior

Withdrawal

Language delay/developmental regression

Preschoolers:

Insecure attachment style (avoidant, anxious, clingy)

Parentified (takes on adult role)

Poor peer relationships and social problems (controlling/over permissive

Hypervigilance

Restlessness, impulsive, hyperactive
The Adverse Childhood Experiences Pyramid
The Segments of the Pyramid
Generational Trauma and Historical Trauma: Historical trauma and generational trauma describes how the cumulative and psychological wounding over a lifespan and across generations can influence our genetics to lead to disparate ACEs scores. Historical trauma occurs typically in people whose culture has a history of oppression and whose families over generations experienced the individual effects of trauma as well as trauma experiences by their ancestors. Infants born to women who have experienced ACEs are more likely to have poor physical and emotional health outcomes, partly because toxic stress experienced by women during pregnancy can negatively affect fetal development. Children who have previously experienced abuse are also more likely to commit violence, including abusing or neglecting their own children, creating a victimization cycle. 
Social Conditions/Local Context: ACEs research shows a correlation between children with low socioeconomic status and a greater risk of experiencing ACEs.  Community environments, such as a lack of economic opportunities, poor education, discrimination, community violence, systematic racism, inacessability of health care, low income, and other risk factors increase the likelihood of additional challenges for the family, adding stress for parents and children.
Adverse Childhood Experiences: The disparities experienced at a social and local level, combined with the effects of generational and historical trauma lead to toxic levels of stress in parents. This intense environment can lead to abusive or trauma experiences for children before the age of 18. 
Disrupted Neurodevelopment: As mentioned above, adverse childhood experiences trigger toxic stress, creating disruption in the neurodevelopment of a child's brain. 
Social Emotional Cognitive Impairment
Greater difficulty learning, memorizing and processing information. 

Increased internalizing and externalizing depending on the adversity encountered.

Poorer mental health across the life course 

Difficulties forming social attachment
Adoption of Health Risk Behavior: ACEs scores are predictive of greater risk behaviors in extremely vulnerable early adolescents. In an attempt to cope with the trauma can result in unhealthy behaviors such as drinking, drugs, risky sexual behaviors, etc., being used as behavioral coping mechanisms.
Early Death Statistic: People with six or more ACEs died nearly 20 years earlier on average than those without ACEs. ACEs are associated with an increased risk of premature death due to ACE-related health and social problems. 
Applying ACES to the Foster Youth Population
The original ACEs study focused on adults. Researchers have been interested in learning more about childhood adverse experiences among children who have been reported to the child welfare system. This comparison provides perspective on the future challenges foster children may face, as well as preventive services and treatment services.
In order to apply ACEs to foster children, researchers at the Administration for Children and Families used NSCAW II, a national longitudinal study of the well-being of 5,873 children who had contact with the CWS within a 14-month period starting in February 2008. 
The researchers found that more than half of all children reported to CPS had experienced four or more adverse childhood experiences BEFORE they even came into contact with CPS. "The levels of adverse events foster children are experiencing are extremely high. As a point of comparison, almost two thirds of the adult population of the ACEs reported one or no adverse childhood experiences. Even the youngest children in the NSCAW population have already accrued more adverse childhood experiences than many of the adults interviewed for the ACEs."
U.S. Department of Health and Human Services- Administration for Children and Families: National Survey of Child and Adolescent Well-being
A more recent study conducted in 2017, "Adverse Childhood Experiences Among Children Placed in and Adopted from Foster Care," revealed that, compared to children from other complex family structures, children in foster care are disproportionately exposed to ACEs.
Protecting Children in the Child Welfare System:
As foster youth are uniquely vulnerable to experiencing adverse childhood experiences, it is important that the child welfare system consider thoroughly the implications of its policies and practices. A study examining the psychosocial well being of women who were in foster care as children recommends several policies to address the developmental needs of children.
Policies should recognize that although separation may be protecting a child, it is also a confusing and stressful experience, as a child is removed from their familiar lives. 

Efforts should be made to reduce the number of foster care placements and to protect children who must enter foster care from subsequent abuse.

Programs should be implemented to address the emotional burdens of children in foster care, with specific efforts to help children interpret life events to ensure that adversity and trauma experienced do not distort or impair their mental health.

Social workers, health care workers, and responders should be trained to recognize ACEs and to address the developmental needs of foster youth. 
The Impact of Resilience on ACES Resources
ACEs and adversity is only one part of the equation. Children have their own characteristics and experiences that help them develop resilience despite exposure to ACEs. Children are not born magically resilient nor susceptible to ACEs. 
Resilience can come in the form of many different protective factors, such as: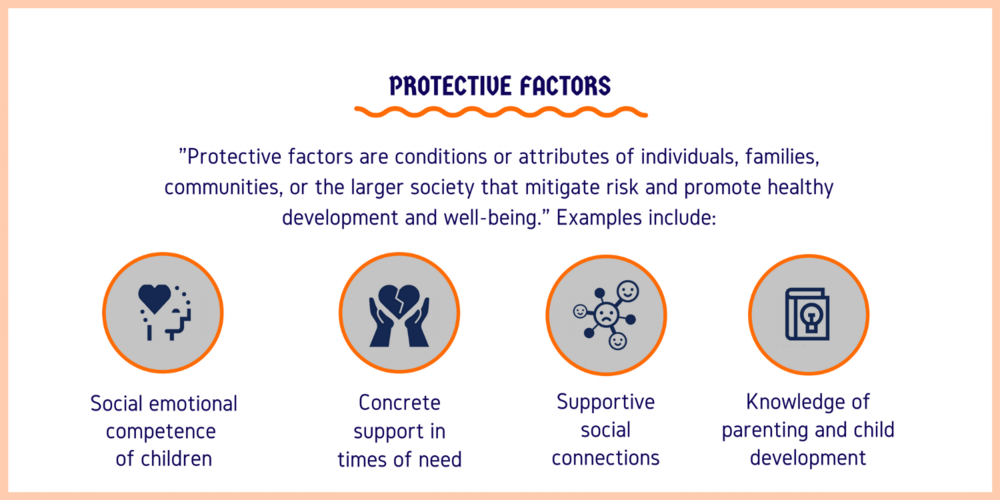 For more information, visit the CDC webpage here. 
All of these factors can help mitigate the negative impacts of ACEs. 
19% of adults who acknowledged having childhood protective factors reported a rate of suicidal thoughts and self-harming versus 39% of those those without protective factors.
Parents, teachers and caregivers can help children by: 
Understanding ACEs, helping children identify feelings and manage emotions, and creating safe physical and emotional environments at home, in school, and in neighborhoods.
A 2017 "ACEs and Resilience" study conducted by the National Health Service in Wales found that, overall, having supportive friends, opportunities to engage with their community, people to look up to, and other sources of resilience in childhood more than halved the occurrence of mental illness in adults with four or more ACEs from 29% to 14%. 
For more information on resilience and the effect it has on ACEs, see the Children's Resilience Initiative (CRI) an organization working to increase the positive, resilience-building experiences in the lives of the children, parents and families in our community. 
Other Resources
 Infographic:  The Truth About ACEs. 
https://www.cdc.gov/violenceprevention/aces/riskprotectivefactors.html
https://www.childwelfare.gov/topics/can/impact/
https://www.childwelfare.gov/topics/preventing/overview/framework/aces/ 
https://www.ncsl.org/research/health/adverse-childhood-experiences-aces.aspx 
https://centerforyouthwellness.org/health-impacts/ 
https://compassionprisonproject.org/childhood-trauma-statistics/ 
https://www.joiningforcesforchildren.org/what-are-aces/ 
Legal Disclaimer: Advokids provides educational information and resources to those who use our website, call our hotline, or submit requests for information via the website. Any information provided may not be construed as the giving of legal advice to any person about a particular legal matter and should not be relied upon as the basis for taking a particular action or refraining from taking a particular action in any legal matter. If you want or need legal advice about a particular legal matter, you should consult a lawyer.

Mailing List Signup
Join the Advokids mailing list and stay connected to our work to fight for the right of every child in California to safety, security, and a permanent home.
Contact Advokids
5643 Paradise Drive, Suite 12B
Corte Madera, CA 94925
11833 Mississippi Ave., 1st floor
Los Angeles, CA 90025
415.924.0587