What is Safe Surrender?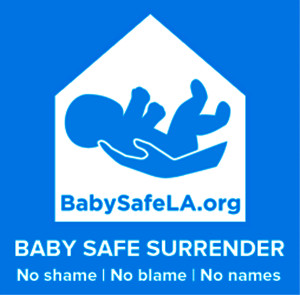 A birth parent or person with "lawful custody" may voluntarily and anonymously surrender a baby within 72-hours of birth to an on-duty person at a hospital or on-duty personnel at a designated safe surrender site without being prosecuted for failure to provide and/or abandonment.
Health & Safety Code § 1255.7(a)
Person with "lawful custody" is a person who, in good faith accepts a baby from the person believed to be the birth parent with the specific intent and promise of safe surrender.
Health & Safety Code § 1255.7(j)
The surrender of the baby is voluntary and anonymous. The person or entity receiving the baby may not request or record identifying information as to the parents.
Health & Safety Code § 1255.7 (d)(2);
All County Information Notice 1-88-10 p. 2;
The act of surrendering the baby does not have to be stated verbally to the safe surrender site personnel receiving the baby.
ACIN 1-88-10 p.3
The birth parent surrendering the baby is protected from prosecution for failure to provide and/or abandonment.
Medical Information Questionaire
Identities Of The Birth Parents Are To Be And To Remain Anonymous
Care Of The Baby
Custody Of The Baby
Safely Surrendering Parent Has 14 Days To Reclaim The Baby
The Safe Surrender Logo Displayed At All Sites
Additional Information and Resources
Legal Disclaimer: Advokids provides educational information and resources to those who use our website, call our hotline, or submit requests for information via the website. Any information provided may not be construed as the giving of legal advice to any person about a particular legal matter and should not be relied upon as the basis for taking a particular action or refraining from taking a particular action in any legal matter. If you want or need legal advice about a particular legal matter, you should consult a lawyer.
Mailing List Signup
Join the Advokids mailing list and stay connected to our work to fight for the right of every child in California to safety, security, and a permanent home.
Contact Advokids
5643 Paradise Drive, Suite 12B
Corte Madera, CA 94925
11833 Mississippi Ave., 1st floor
Los Angeles, CA 90025
415.924.0587