Information for Relatives and NREFMs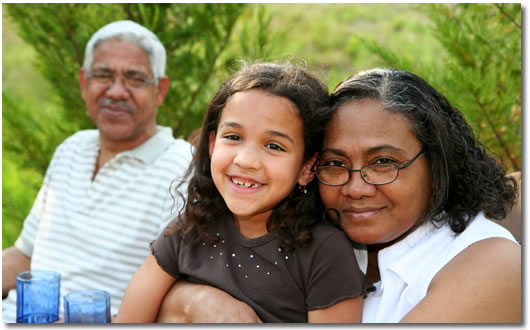 When a child is detained by the county social services agency, the agency has certain legal obligations to identify and notify relatives (including siblings) of the child's removal.  The county agency also has a legal obligation to assess those relatives and/or non-relative extended family members (NREFMs) for placement.  In addition to the county agency's legal obligations, the juvenile dependency court has the obligation to make certain inquiries and findings at the detention and disposition hearings related to the child's placement.
This section outlines the agency and court's duties and obligations with regard to a dependent child.  When these duties and obligations are not performed, certain rights and remedies are available to relatives and/or NREFMs to address the agency and/or court's failures.
If you are a relative or NREFM currently caring for a foster child, please visit our For Resource Families page for information about how to best advocate for the child in your care. Other resources for relative caregivers are available at Kinship Care CA.
If you are a relative caregiver who is caring for a child who doesn't qualify for foster care payments, you may be eligible for Approved Relative Care (ARC) funding.  For more information, please visit this webpage.
Are you a relative of a child or youth in foster care?
Please participate in our survey to hold counties accountable.
We cannot improve the foster care system without you!
The County Placing Agency's Role and Legal Obligations
The Court's Role at Detention and Disposition:  Inquire About Relatives and Make Findings on Agency's Due Diligence in Locating Them
At the detention hearing the court must ask the parent(s) of the child to provide contact information about maternal and paternal relatives so the social worker can contact them and initiate an assessment if they are willing to be considered for placement.  The social worker must include in the detention report the results of any assessment of a relative home conducted under §309(d).  The agency must also have a procedure for the relatives of a child who has been removed to identify themselves to the social worker and be provided with notice of dependency proceedings.
At the disposition hearing, the court must make findings as to whether the social services agency used due diligence to identify, locate and notify relatives and may order the agency to take additional steps to identify relatives if it finds that the agency has not used due diligence.
Welfare and Institutions Code §§ 309(e)(3), 319(f)(3), 361.3(a); California Rules of Court 5.637, 5.695(f)
JV-285 Relative Information Form
In order to make informed decisions about the child and reach the best outcome regarding disposition, the court needs information.  Relatives and NREFMs can use the (Relative Information Form (Form JV-285)  (or Información del pariente, JV-285S) to communicate and provide detailed information about the child's specific needs or circumstances to the judge. The form can include information about your relationship with the child, the child's education or medical needs, and any other information that might be helpful to the court.
A relative or NREFM may also use the JV-285 to let the court know they are interested in visitation or placement of the child or youth in foster care.  Form JV-285 may be submitted at any time during the court process.
When completing the Relative Information Form (Form JV-285), be sure to be factual, provide specific information, and remain child-centered, positive and kind. You may also want to:
Attach a photo so the judge can put a beautiful, smiling face to a name and file number.
Share any concerns or individual needs the child may have.
If possible, attach letters from doctors, teachers, or other professionals to support your concerns. If you have attachments, be sure to check the box on item 12, indicate the total number of pages attached, and include the date and the case number. Label each attachment page "Attachment to Form JV-285, Date, Case Number."
Submit the original Form JV-285 with 8 copies of the form (each form should have a photo on it) to the Juvenile Court Clerk's Office at least five calendar days before the hearing (or seven days if filing by mail). The County Clerk will then distribute, or "serve" your Form JV-285 to all of the relevant people involved in the case.
California Rules of Court § 5.534 .
Some clerk offices will copy Form JV-285 for you, but we recommend coming prepared with all 8 copies just in case.
Be sure to keep one copy stamped "filed" by the Clerk, for your records.
You have the option to e-file your JV-285 in the following counties:
Other counties may also offer e-filing in their juvenile divisions.  If you are in a different county and wish to e-file, you should call the court clerk's office to learn whether the juvenile court currently accepts submissions by e-file.  Be sure to specify that you are inquiring about filing in juvenile court, as counties may permit e-filing in other courts, but not the juvenile division. 
Note:  An e-filing service provider called Green Filing now offers e-filing in LA, Riverside, San Diego and other CA county courts for a small fee.  Please visit their website for more info here.
When you file your Form JV-285, you are also developing a relationship with your juvenile court judge and all other parties involved with the case. Your Form JV-285 will become a part of the court file and will reflect your dedication and commitment to the child.  You may use Form JV-287 in order to keep confidential any contact information listed on Form JV-285.
California Rule of Court 5.534(f)(2)
Rights and Remedies Available to Relatives and NREFMs
Relative and/or NREFM Placement Considerations
Immediate Assistance/Support Available for Escalating Issues in Placements
The California Family Urgent Response System  is a free hotline for current or former foster youth and their caregivers to call and get immediate help for any issues (big or small) they may be having. The hotline is open 24 hours per day. When you call the FURS hotline, you will be connected with a trained counselor or peer who will listen to you. FURS is a safe and private space to talk. If more support is needed, a local team can come directly to where you are to help you work on the problem and create a plan to help stabilize your situation and keep everyone safe. The team will also help connect you to local services and future support. If you need assistance, CALL OR TEXT: 1-833-939-FURS (3877) or visit online at www.cal-furs.org.
FURS is a coordinated statewide, regional, and county-level system designed to provide collaborative and timely state-level phone-based response and county-level in-home, in-person mobile response during situations of instability, to preserve the relationship of the caregiver and the child or youth. For additional FURS program resources and background information, please click here.
Additional Resources for Relatives
Step Up for Kin - The Alliance for Children's Rights has created a coalition focusing on elevating kin voice, advocating for state and local policies to improve supports and services for kin families, and developing training resources and materials.  On the second Wednesday of each month, they are hosting a Kin Council Meeting to discuss common issues relatives face in foster care.  To join, please click on Kin Council Meeting Information.
One Generation - Grandparents as Parents - for Los Angeles based relatives who are currently caring or hope to care for a grandchild in foster care. If you are a grandparent or relative, you can get cost free assistance navigating the court system in LA.  For more information, click on this flyer.
Legal Disclaimer: Advokids provides educational information and resources to those who use our website, call our hotline, or submit requests for information via the website. Any information provided may not be construed as the giving of legal advice to any person about a particular legal matter and should not be relied upon as the basis for taking a particular action or refraining from taking a particular action in any legal matter. If you want or need legal advice about a particular legal matter, you should consult a lawyer.
Mailing List Signup
Join the Advokids mailing list and stay connected to our work to fight for the right of every child in California to safety, security, and a permanent home.
Contact Advokids
5643 Paradise Drive, Suite 12B
Corte Madera, CA 94925
11833 Mississippi Ave., 1st floor
Los Angeles, CA 90025
415.924.0587